Costanza Caraffa, Ph.D., will be a special guest of the second scientific colloquium, which will take place at the Institute of Art History on June 2, 2022 as part of the projects activities. On that occasion, she will hold consultations with team members regarding their research. In addition, she will visit the phototheque of the Institute and give a lecture under the title "Curating the photographic archive. Artistic projects at the Photothek of the Kunsthistorisches Institut in Florenz".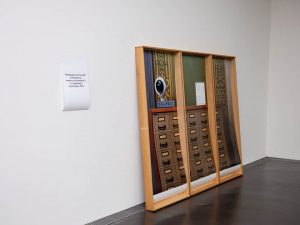 The Photothek of the Kunsthistorisches Institut in Florenz is a research facility and a laboratory that actively contributes to the international and transdisciplinary debate on photo archives in twenty-first-century research and societies. Its commitment to the study and preservation of photographic heritage is theoretically and methodologically rooted in the notions of photo-objects and photo-archival ecosystems. This material approach challenges traditional art-historical hierarchies and shifts attention to the Photothek's seemingly indistinct masses of still largely anonymous photographs. It is in collaboration with artists that new reflections on the systems of value that govern (and are produced by) photographic archives emerge. My paper will present some projects of the past few years that help to bridge a historical perspective with present-day issues.
Costanza Caraffa (MA in architecture, Milan 1992; PhD in art history, Berlin 2003) has been Head of the Photothek at the Kunsthistorisches Institut in Florenz, Max Planck Institute since 2006. In 2009 she initiated the Photo Archives open conference series. Sge edited or co-edited among others Photo Archives and the Photographic Memory of Art History (2011), Photo Archives and the Idea of Nation (2015), Photo-Objects. On the Materiality of Photographs and Photo Archives in the Humanities and Sciences (2019), Foto-Objekte. Forschen in archäologischen, ethnologischen und kunsthistorischen Archiven (2020), as well as the journal issues Photography and Art Market around 1900 and Encounters: Handling, Placing and Looking at Photographs in Relation to Migration (both 2020). In 2009 she authored the Florence Declaration – Recommendations for the preservation of analogue photo archives. Between 2015 and 2018 she was coordinator of the collaborative project Photo-Objects – Photographs as (Research) Objects in Archaeology, Ethnology and Art History and co-curated the exhibition "Unboxing Photographs" (Berlin 2018). In recent years she intensified collaboration projects with artists such as Antonio Di Cecco, Armin Linke, Massimo Ricciardo and Akram Zaatari.