This year, the annual Discovering Dalmatia international scientific conference organised by Institute of Art History, will take place virtually, over the course of three days, December 3-5.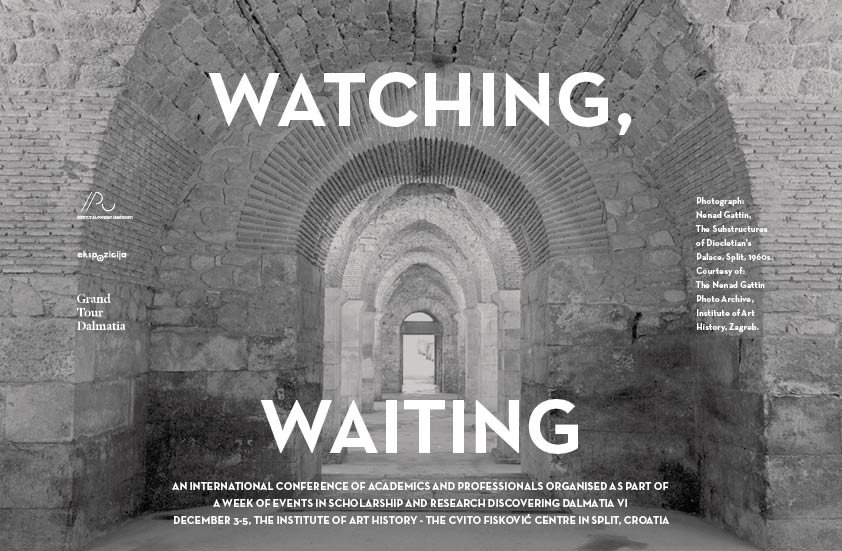 This year conference, entitled Watching, Waiting – Empty Spaces and the Representation of Isolation, is inspired by the Institute of Art History's project Exposition [Ekspozicija]. Themes and Aspects of Croatian Photography from the 19th Century until Today, which is financed by the Croatian Science Foundation. It also represents the sixth annual Discovering Dalmatia conference, a programme offering a week of events in scholarship and research.
Please join us via Zoom:
Day 1 (03 / 12)
https://us02web.zoom.us/j/81939301537?pwd=dENUcEdKdXpmaG54Tk9Sd205amprZz09
Day 2 (04 / 12)
https://us02web.zoom.us/j/81752813627?pwd=RVJOd2o5S0tnck5SdW1VckJ6dUliZz09
Day 3 (05 / 12)
https://us02web.zoom.us/j/83531036592?pwd=Q20ydUI5VDFSd2ZNM1E2N1Y1cWxGdz09
Programme:
Thursday, December 3
9.00 – 9.15
Introduction
Sandra Križić Roban and Ana Šverko
9.15 – 11.45
Session 1 / Moderated by Sandra Križić Roban
Stuart Moore and Kayla Parker:
Separation Anxiety: Filming the Nicosia Buffer Zone – with projection of the film, Father-land
Isabelle Catucci:
A Land of Collective Solitude
Marina Milito and Maria Angélica da Silva:
Visualizing Emptiness over Emptiness: Leaving Home in Pandemic Times (Maceió, Brazil)
Cristina Moraru:
Empty Spaces, Illuminated Minds. Towards a Time Withdrawn from the Capital
Luca Nostri:
Existential Topography: Photographs of Lugo During the Lockdown / 06-18 April 2020
12.15 – 13.15
Session 2 / Moderated by Lana Lovrenčić
Anna Schober de Graaf:
Occupying Empty Spaces: Political Protest and Public Solidarity in Times of Social Distancing
Bec Rengel:
The Empty Plinth and the Politics of Emptiness
Friday, December 4
9.30 – 11.45
Session 3 / Moderated by Lana Lovrenčić and Ana Šverko
Elke Katharina Wittich:
Silent Ruins
Emily Burns:
Emptying Paris: Edward Hopper in Paris, 1910 / 2020
Marija Barović:
Ston's Voids
Jessie Martin:
Deconstructing Understandings of Emptiness: An Examination of Representations of Transitory Space and 'Non-place' in Photography
Ruth Baumeister:
The Power of Emptiness
Dominik Lengyel and Catherine Toulouse:
The Representation of Empty Spaces in Architecture
12.35 – 14.00
Session 4 / Moderated by Mirko Sardelić
Asija Ismailovski:
Empty Space as Artistic Strategy
Marta Chiara Olimpia Nicosia:
Species of Spaces, Species of Emptiness: Idleness and Boredom
Anči Leburić and Laura John:
Visualization as a Qualitative Procedure in the Representation of the Meanings of What We Are Researching in Space
Saturday, December 5
9.00 – 9.45
Session 5 / Moderated by Mirko Sardelić
Martin Kuhar and Stella Fatović-Ferenčić:
Empty Spaces in Photographs of Public Health Remnants in Dalmatia
Klaudija Sabo:
Representations of Quarantine and Space in Visual Culture
10.00 – 11.35
Session 6 / Moderated by Liz Wells
Catlin Langford:
Staging Isolation: Images of Seclusion and Separation
Tihana Rubić:
Ethnographies of Waiting, Ethnographies of Emptiness: Time and Space Through Photography
Meg Wellington-Barratt:
Hierarchy of History: Curation of Photography During the Covid-19 Lockdown Period
In addition to the conference, and as part of this year's Discovering Dalmatia, an exhibition curated by Joško Belamarić will be launched at the Split City Museum, entitled Split and Diocletian's Palace in the Work of Danish Painter Johan Peter Kornbeck.
This year's programme will conclude with an online presentation of the book Discovering Dalmatia: Dalmatia in Travelogues, Images, and Photographs (edited by Katrina O'Loughlin, Ana Šverko and Elke Katharina Wittich, Zagreb 2019), which brings together articles that emerged from earlier Discovering Dalmatia conferences.
Please find a detailed programme with abstracts here:
https://www.dropbox.com/s/2yrr42d1pqb5t7d/Discovering%20Dalmatia%20VI%20A4%20online.pdf?dl=0